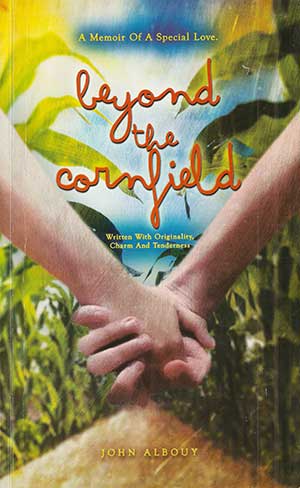 Beyond the Cornfield is a simple, soul – searching story. John Albouy  (pronounced All-boy) (pen name for John Cox) scales giddy heights and plumbs even greater depths in his adolescent memoir. It is a rare love story with vulnerable, even isolated, twists that journeys to a life-altering conclusion.
Imbued with stark beauty, Beyond the Cornfield strikes a vulnerable chord that is in the heart of every teenager.
Introduction
The idea for writing Beyond the Cornfield came to me in the winter of 1978, almost four years after leaving boarding school.
That winter I was recovering from a serious bout of recurring mononucleosis and had cut my year short at university in Boston, Massachusetts, to return home to Bermuda to recover. As the weeks passed, I gained sufficient strength to take a part-time job as a docent in an 18th century house museum in Bermuda's original town, St. George's. Every lunch I ventured down to the town's wharf that had a perfect view of the harbour and ate my lunch with my legs dangling over the wharfs edge. In the distance I could see waves from the open sea crashing against the far islands. This formed a striking contrast to the sheltered harbour that seemed cocooned against the outside world. The view caused me to reflect on my own life, which I thought had become as quiet and uneventful as the harbour before me. Youth's passions and adventures had surely passed me by. I saw in those distant waves a life beyond reach.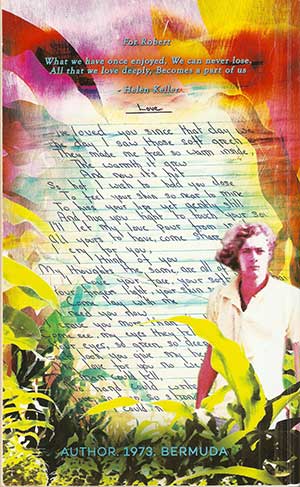 So it seemed then, more than ever, that a huge part of my life had been left behind in the recesses of my boarding school. It was there, in my final year, that I had been struck down with this crippling illness. One day, while eating lunch in the soft winter sunlight, I became overwhelmed with the feeling that I HAD to set down the story of what happened to me at boarding school; how my life took a separate course. So I began.
A first draft, written long-hand at a desk in the museum, came to life quickly and remarkably during the winter of 1978, but because of its deep personal nature I shut it away for years, being too embarrassed to share it. And although it would take the turn of another century before I began fine-tuning the draft, something magical had already occurred. In my attempt to record my early life, I experienced a sort of catharsis and I was able to put a great deal of the past behind me.  A third attempt, more recently, has brought this little book into the light. Today we live in a more forgiving world. The illness has never left me, however, and I was officially diagnosed with Chronic Fatigue Syndrome, ironically in Boston, in 1992. I never returned to university and never had a career.
But, during the waning years of this illness, I managed to write several successful books. They have justified my life.
To receive a hard copy of Beyond the Cornfield send inquiries to:
John Cox
Joanna Valius, Literary Agent
Valius Book Agency